Summer Camps/Day Camps
Since 1957, Camp Killarney has since had a long positive history of serving youth and families. Today, our growing camp continues to serve diverse populations. Each year we renew our Christian tradition of serving youth through intentional camp programming, outdoor education, and recreation. We have been blessed to serve you through our multiple summer camps and persist to grow additional programs. We invite you to join us for one of our programs this summer!
**Early Bird Registration**
Lock in reduced rates with 10% off 2018 prices! Pay in full before April 30th!
Payment plans available online.
Only applies to specific camps. Discount applies to REGULAR rate
Adventure Camp (2nd-8th Grade)
Adventure Camp A: July 8-July 14
Adventure Camp B: July 15-July 21
Fee: $290
Adventure Camp C: August 5-August 10*
Fee: $275 (*ends Friday night)
Our very popular and established program is full of activities: campfires, OLS, the beach, archery, chapel, canoeing, crafts, sports & devoted staff make for a great week of Christian adventure! Each day, campers also choose from a growing list of electives encouraging them to explore something new. Try the barefoot hike, look through the telescope, try ga ga ball, fish, snorkel, or play a game of capture the flag! Join us for an amazing camp that will leave campers with lasting memories, friends, and valuable life skills.
Pathfinder Camp (6th-9th Grade)
June 24-June 29
Fee: $295 ($20 off when combined with Adventure Camp or Teen Camp)
Register for our newest camp just for middle schoolers! Modeled after our popular Adventure Camps, Pathfinder will offer older campers and young teens everything that they loved about Adventure Camp with more advanced electives. Enjoy a week filled with all of your favorites including swimming, archery, OLS, kayaking, hammock village, adventure course, field trips, chapel and more!
Teen Camp (9th-12th Grade)
July 1-July 5
Fee: $265
Teens participate in creating their own outpost camp while learning outdoor living skills (OLS), connecting with friends, and building a community of service. Special 4th of July activities!
This camp is designed to help teens push beyond their personal boundaries and evolve into exceptional leaders. Teens are inspired to embrace their unbreakable identity in Christ through Adventure, friends, personal team challenges, and daily devotions.
CIT Workshop (9th grade+ up to age 16)
July 5-6
Fee: $100
Upon Teen Camp completion, youth desiring to serve in the role of CTI* (Counselor-In-Training) in one of our adventure camps can stay at camp for an additional night of Leadership Training.
Day Camp (Pathfinder & Adventure)
Program runs 9am-5:30pm M-F
Fee: $200 ($25 off when combined with another camp)
Choose the Day Camp Option for any Pathfinder or Adventure Camp. A great alternative to day care with all of the benefits of summer camp!
SPECIALTY CAMPS
Ninja Warriors Camp (Ages 6-12)
Boys Camp: July 25-July 28
Fee: $150 ($50 off when combined with another camp)
Just for BOYS specialty camp! Join us for a session of fun challenges. Build strength as you master the obstacle course, train for the Killarney Ninja Warrior games, meet famous warriors of the bible, and more! A great add-on camp too!
Time Traveler (Ages 6-12)
Girls Camp: July 29-August 1
Fee: $150 ($50 off when combined with another camp)
A specialty camp just for GIRLS! An empowering opportunity to be free to experience the life of girls around the world, strengthen friendships with Olympic themed activities. Travel back to the famous voyages of the Bible and discover how grand God's world is. Stamp your passport for a great camp filled with crafts, games, swimming & more!
A great add-on camp too!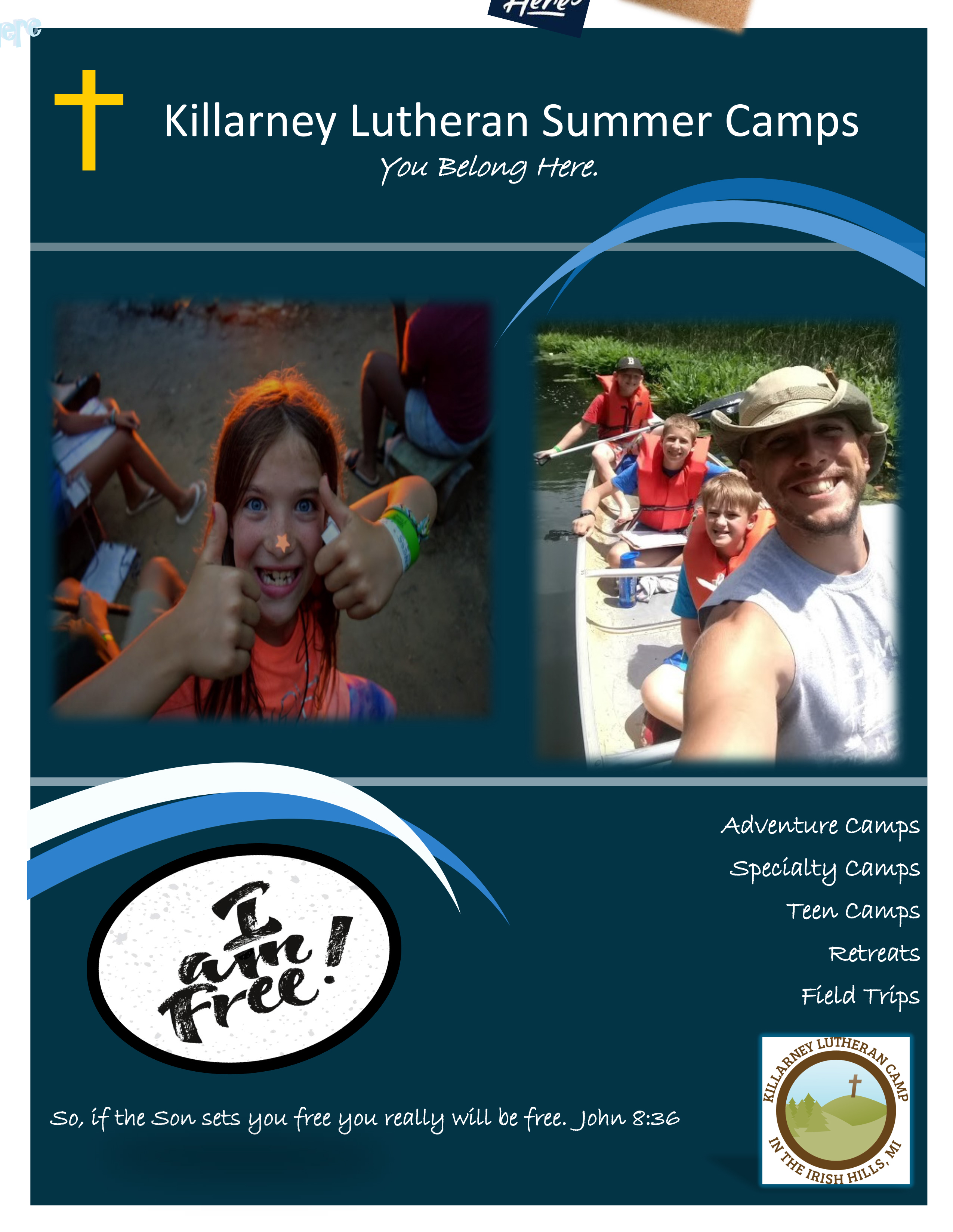 Click For More Info